Prof. S. Naranan's Papers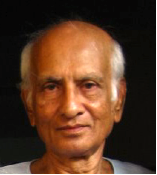 Dr. S. Naranan (b.1930) was an experimental cosmic-ray physicist and X-ray Astronomer based mostly in the Tata Institute of Fundamental Research, Bombay (India) in a career spanning 42 years. He is a firm believer in the interdisciplinary character of science and has diversified his interests to other fields such as mathematics, statistics, computer science, biology, genetics and linguistics.
Here, we present some of his papers on miscellaneous, interdisciplinary topics.

website by Sundaresan Srinivasan